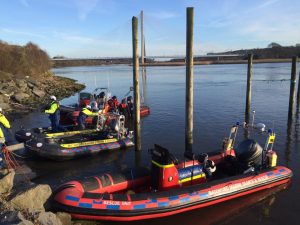 A Search operation was launched at 17:00 on the 08/01/2015 has now entered Day 67
WMSAR teams were tasked by Irish Coast Guard earlier this evening to a report of a person entering the water from Suir Bridge. Volunteers were on a training exercise at the time and responded immediately, despite worsening weather conditions.?A search of the area was conducted in coordination with Rescue 117, WCRR, and Waterford City Fire Service. All volunteers have now been stood down for the night and operations will continue in the morning.
Garda? are appealing to anyone who was travelling on the bypass or bridge at around 5pm and who saw anything to contact them on 051 305300.
This has been the longest search and recovery operation in recorded history on the River Suir. WMSAR crews have searched consecutively for 67 days since the 08/01/2015. The search was stood down without any results on Sunday the 15th of March 2015.