Swiftwater rescue (also called "whitewater rescue") is a subset of technical rescue dealing in whitewater river conditions. Due to the added pressure of moving water, swiftwater rescue involves the use of specially trained personnel, ropes and mechanical advantage systems that are often much more robust than those used in standard rope rescue. The main goal is to use or deflect the waters power to assist in the rescue of the endangered person(s), as in most situations there is no easy way to overcome the power of the waters.
---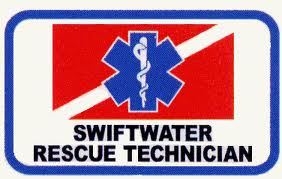 Swiftwater and Flood Rescue Technician (SRT) The Swiftwater and Flood Rescue Technician course complies with Defra Module 3 content requirements, and for many years has been seen as the benchmark training course for swiftwater and flood rescue teams. This training course is intended for personnel who may be required to carry out rescues in a swiftwater and flood environment, including emergency services personnel and mountain rescue teams.
The Waterford Marine search and Rescue have 8 fully Certified. Swiftwater and Flood Rescue Technicians all trained by Paul Mc Nally of www.swiftwatertraining.ie and certified by Rescue 3 UK. Over the coming months we will have 10 Swiftwater and Flood Rescue First Responders also on the team.
---
Rescue 3
is one of the UK?s leading technical rescue training providers and our aim is simple: to provide the highest level of instruction and facilities to our delegates, giving them the skills and knowledge to be safe and effective rescue personnel. For over 15 years we have been delivering the world?s foremost rescue training scheme in the UK and have trained personnel from the Fire & Rescue Service, RNLI, Ambulance Service, Police
Accreditation: As the Preferred Training Provider for Rescue 3 Europe in the UK and Republic of Ireland our courses carry international certification from Rescue 3, one of the worlds largest technical rescue training organisations who have been delivering and developing technical rescue training courses since 1979. Rescue 3 courses are also compliant with relevant competencies and standards for rescue agencies and technicians as laid down by organisations such as Defra and the NFPA (National Fire Protection Association). Additionally, through partnership with the University of Central Lancashire (UCLan), we deliver a number of Higher Education awards, including a Foundation Degree in Technical Rescue Instruction
Swiftwatertraining.ie